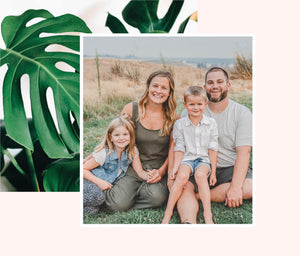 About Me
I'm Nicole, the designer and owner of Palm to Pine Design.

But more importantly I am a:

Mom of Two
Mexican Food Connoisseur
Textbook Enneagram 7
USMC Sister
Childhood Cancer Advocate

I truly believe there is no wrong way to celebrate. But if you're looking for a little help to elevate your party style, that's where I come in! I know what it's like to be a busy, overwhelmed Mom wanting to throw a beautiful party and not knowing where to start, or having enough time or energy!
My style is the perfect balance between Amazon Mom and Pinterest Mom.
I support small businesses, especially mom owned ones, whenever I can and starting with beautifully designed invitations and banners lays the foundation for a stylish celebration! 
How it all started?
I began my Etsy shop in 2013 after the birth of our first daughter. I truthfully have always wanted to be a stay at home mom, I thought that was my life path and the transition would be seamless and easy.
Uhhhh….NOPE! Being a new mom was an incredibly hard adjustment for me and I found myself drowning in diapers and sleeplessness, yet no part of me wanted to leave my little lady's side and return to the workforce. On a whim, I started an Etsy shop and found my life preserver. Building my business saved me as a new mom, and as my children have grown, so has my identity from "mom" to "entrepreneur" 

Thank you for supporting my small business that has allowed me to have my cake, and eat it too. Party pun intended.